Change the user interface language
Purpose of this article
You can enable users to select their desired interface language regardless the language settings in Office 365. The reason you would like to do this is because your users are not able to change their desired language in Office 365. Unfortunately this happens when your Azure AD is synchronized with AD using ADFS.

The following could be the case:

Your preferred language is not set, resulting in erratic behavior of your interface language.

Your preferred language is set, however you would like users to decide which language

How it's done
Navigate to Organisation Settings and select "Users can select language".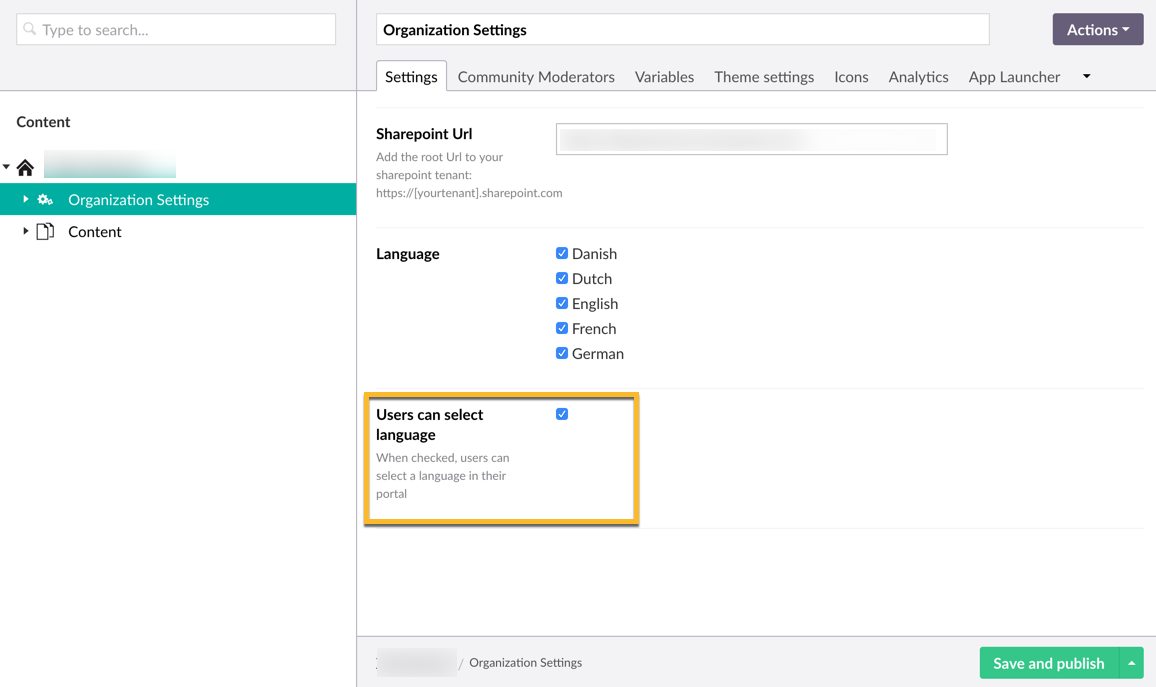 In the portal it'll look like this:

Related Articles

Add property to SharePoint user profile and map SharePoint managed property

When adding extra queries or views to the People Directory widget, you'll use SharePoint managed properties to filter on. You can use one of the default SharePoint user profile properties and a default SharePoint managed property. To have more ...

How to add a user

Open the Synigo Pulse's CMS using the tile on your portal or by following https://cms.synigopulse.com/. Click Users In the navigation pane left. Choose which kind of user you want to add a) a CMS administrator that manages organizations settings and ...

Change the birthday widget

You can configure the content of the birthday widget as follows. Please navigate to company settings and then go to widgets. Select the birthday widget. How to change the number of birthdays that is shown Edit the property "Item count" How to ...

How to change the URL of a Synigo Pulse app?

Purpose of this article Several features (widgets and apps) have a unique URL that can be customized to your needs. E.g. the Knowledge Base or the People directory. Required is you have activated the widget, e.g. People Directory or Knowledge Base ...

How to change the section thumbnail

Purpose of this article Each section in the Knowledge Base ('Weten & Regelen') is accompanied by a thumbnail. You can change the look of this thumbnail to match the look of your brand or organization. This article explains how to change the ...