Purpose of this article
The People Directory queries the SharePoint Online People Search. By default all Azure AD users will appear in the SharePoint Online People Search and therefore also in the People Directory. Azure AD and thus the SharePoint user profiles may contain users that you don't want to show in your People Directory, such as service accounts or shared mailboxes. This article describes how to optimize your People Directory by only showing relevant users.

Preparation steps:

Determine which users you want to include or exclude.

Try to find a dimension or property that makes it easy to filter these users.

Tip: try to clean up users in Azure AD as this will give you a solid base at the source.

Exclude Active Directory Users From SharePoint Online People Search
When syncing your on-premise Active Directory with the Azure AD, you can exclude AD users from the SharePoint Online People Search, without excluding them from the Azure AD, by setting the AD user property
msExchHideFromAddressLists
to
True
or
Yes
. There are some catches and limitations. Please
read this article
for more information.
Define filters in People Directory
When you need more control on which users to display in your People Directory, you can define filters in the People Directory widget. Navigate to the CMS > Organization Settings > Widgets > People Directory and open the Filter tab.
Domains

This filter will only show users that belong to a certain email domain. However, within Sharepoint Search we can't use an 'ends with' filter. So each filter is a 'contains' filter. We added a 'doesn't contain' filter so that you can still exclude domains you don't want to show. The 'doesn't contain' filter places a minus in front of the domain you want to exclude.
E.g.: filling out 'synigo.nl' ensures that this domain is included, while '-synigo.nl' ensures that this domain is excluded.

Using this filter you can filter out unique users. Add the email addresses of users you want to filter out. This is a practical method if you just want to exclude a few users.

Use custom refiners

By default the standard definers apply (job titles, departments, office locations). When selecting 'use custom refiners', you can add your own definers. You do so by filling out the 'refiner' field.
Using extra queries you can filter on specific properties of your users. It works dynamically and can be used in different scenario's. For example, you can use the extra queries to only display users that are explicitly marked to be displayed, or only display employees that work in a specific country. Schools can use the extra queries to make a People Directory specifically for employees or students.

Add a new query or edit an existing one and make the following choices.

Choose a property of the user to filter on. Select or fill in the name of the SharePoint managed property you want to filter on. You can select one of the existing managed properties from the list, or type the name of a custom managed property.

Choose the operator (Equal to, Not equal to, etc.).

Type the value for the query.

The example below will result in displaying all users that have the property 'Show In People Directory' checked in their SharePoint user profile.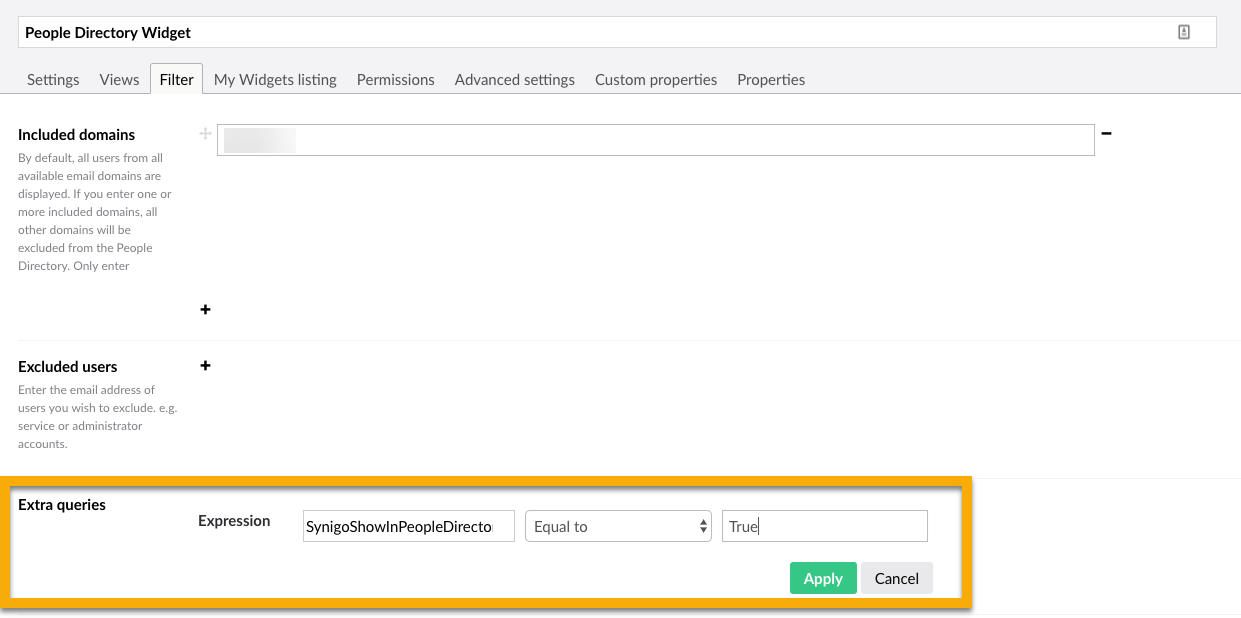 Add an extra query to the People Directory widget
You can extra fields to the People Directory widget to refine your search. Follow the steps below:
Go to the People Directory Widget in CMS

Go to the tab 'Filter'

Go to 'also search on these fields' and fill in the fields you want to use. Choose on of the defaults or add your own by clicking on the + (this last one is not live yet). The defaults are:


PrefferedName

JobTitle

WorkEmail

AboutMe

Responsibility

Interests

Department

Schools

OfficeNumber

BaseOfficeLocation

PastProjects

Skills

MobilePhone

WorkPhone

Adding custom filters
You can add custom dynamic filters to the People Directory. These filters will appear here: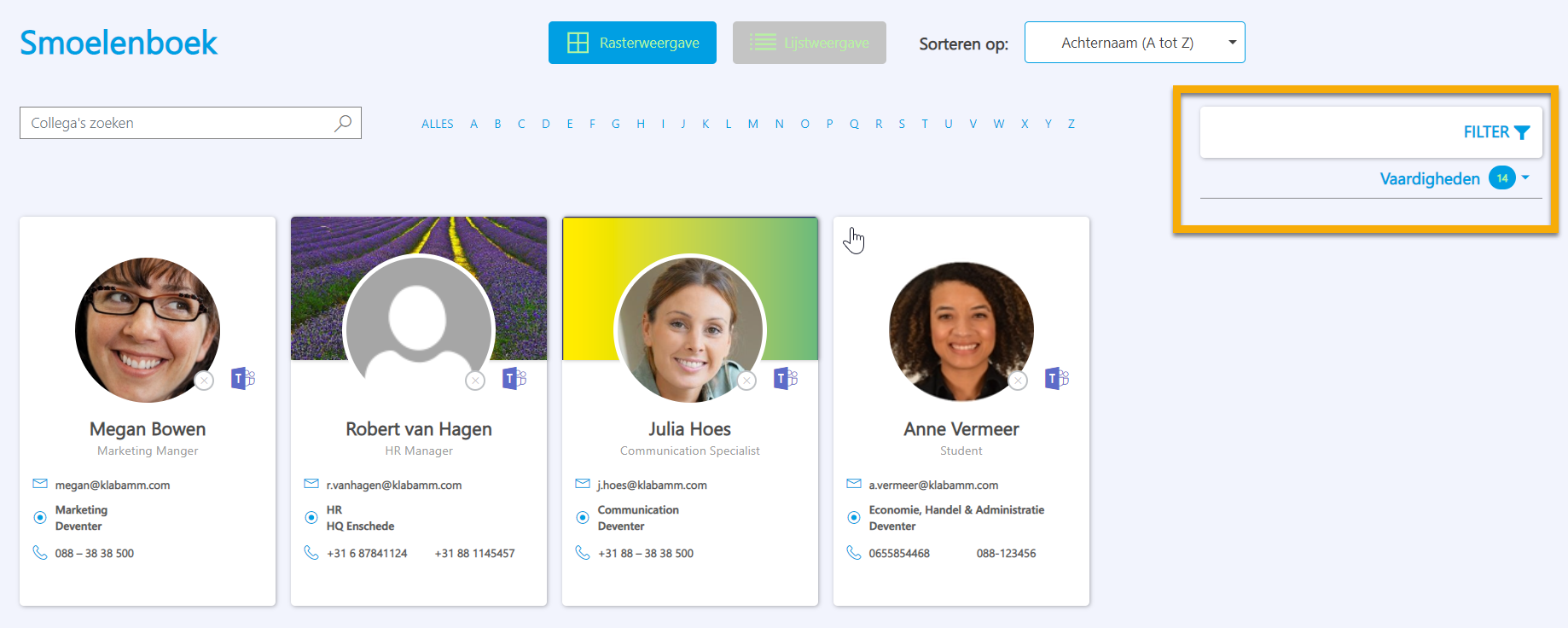 To add the filters, do the following:

Go to the People Directory widget in CMS

Go to the tab 'filter'
Check the 'use custom filters' checkbox

Go to 'filters' and click 'add refiner'

Fill in the title of your refiner

For the field 'refiner', you'll have to use a refinable string you've made

To add this refinable string, do the following:

Go to the SharePoint Admin Center

Go to 'manage search schema'

You'll see 'managed property' with a search box:


Within the search box, search for 'refinablestring'


You'll now see all the refinable strings you have available

Select one of the strings and go to 'mapping to crawled property'

Select 'add mapping':


Add a mapping
Within the CMS add the name of your refinable string to the refiner field, e.g.: 'RefinableString00':