How to change the URL of a Synigo Pulse app?
Purpose of this article
Several features (widgets and apps) have a unique URL that can be customized to your needs. E.g. the Knowledge Base or the People directory. Required is you have activated the widget, e.g. People Directory or Knowledge Base

How it's done
Following the example of changing the URL of the People Directory we show you how you can change the URL of a Synigo Pulse app.


1. Navigate to the People app in Company Settings / Apps.

2. Change the title at the top.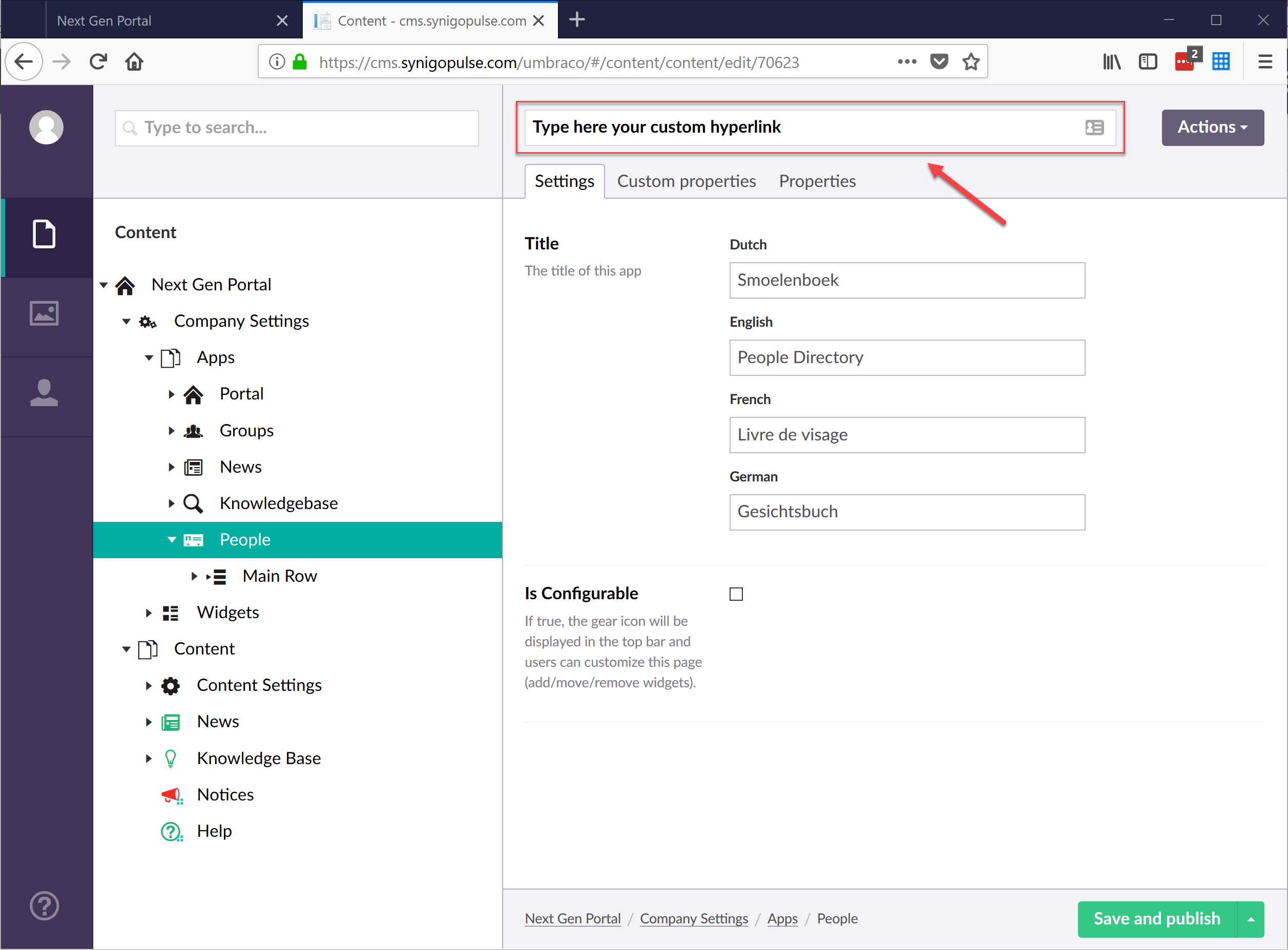 Type the name of your hyperlink



3. Next, navigate to the required widget, in this case People Directory.








4. In the field Url, you type the name you entered in the title above. Please type this after /#/.
For example: /#/
Typeyourcustomurlhere
5. Repeat this step for all the widgets that use the specific app.

7. You are finished.

Related Articles

Welcome to Synigo Pulse

Open the Portal Welcome to Synigo Pulse! Synigo Pulse is your social intranet & digital workplace. To open your new Pulse portal, go to https://portal.synigopulse.com and log in with your Office 365 account ('Work or school account'). This can be the ...

Activate the new People Directory in Pulse

On July 15th, 2018 we've released the new People Directory in Synigo Pulse. In new Pulse environments activated after July 15th, 2018, the People Directory is activated by default. In existing Pulse environments, activated before July 15th, 2018, the ...

How to change your Theme Settings and add branding?

As a Synigo Pulse administrator, you can change the theme settings of your Synigo Pulse environment. Add your organization's logo and color's to match your brand. This article describes how to change the theme settings, including a description of the ...

Options to integrate external data in Synigo Pulse

Synigo Pulse offers your organization capabilities to integrate external data. Typical use cases are Remind user about open tasks or deadlines. Show schedules. Notifications about tasks in other applications and systems. Show a list of vacancies from ...

Overview of Native app

Overview Native app Synigo Pulse The current version has the following features: Audiences Using audiences you can publish different versions to groups of people in your organization. Read more. Dashboard The dashboard is essential to you as it gives ...