Menu items or tiles on dashboard
You can determine the contents of the dashboard of your native app.

The dashboard of your app is made up of tiles or menu items. A menu item can have one of the following three actions:

Open an item that is part of the app, e.g the knowledge base.

Open a url, e.g. a webpage.

Open an application installed on the phone or let your user download it from a store.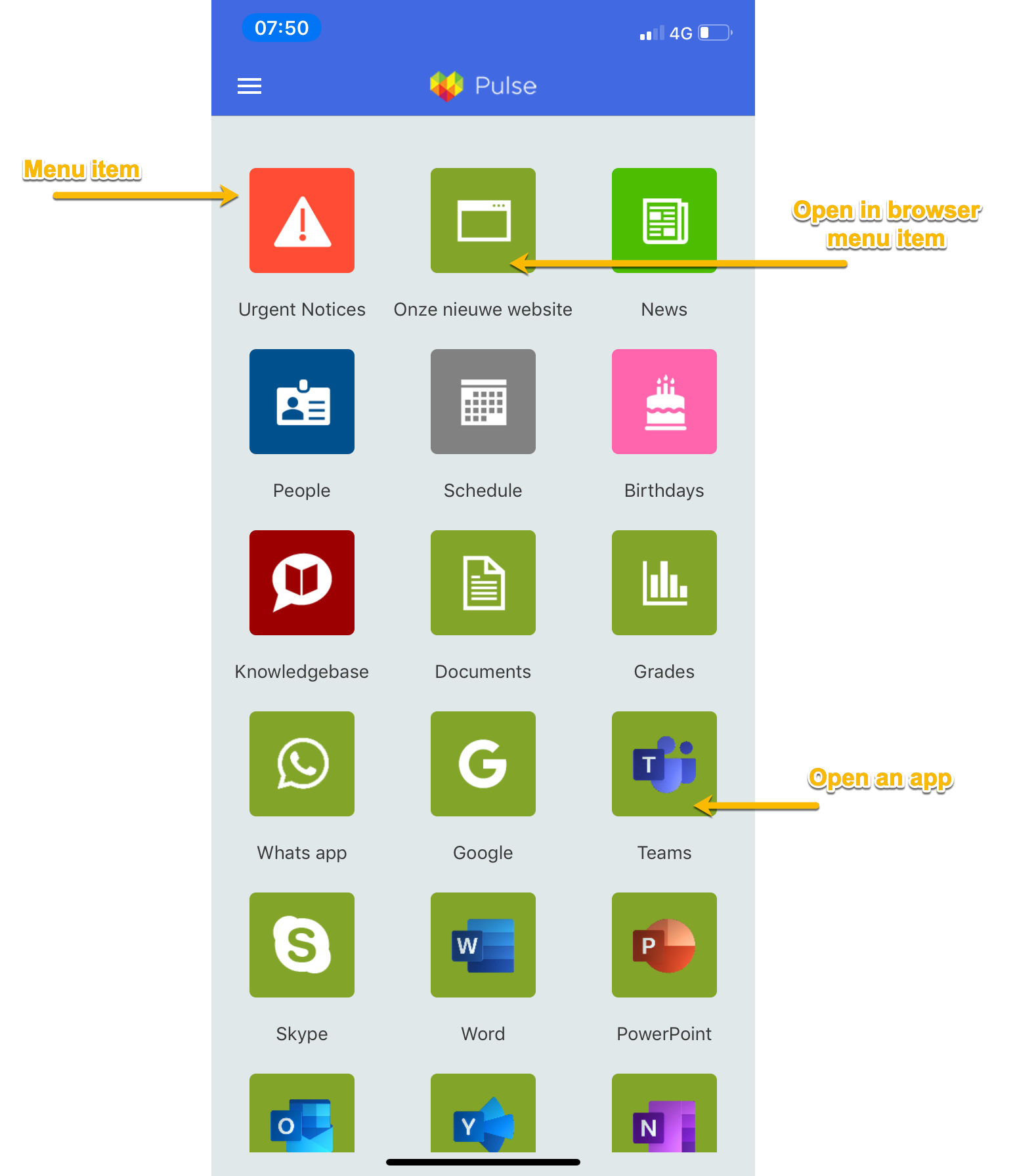 Tiles of native app
Add and change menu items
Navigate to the Menu Items node belonging to the Audience you would like to change. E.g. at [Your Organization] > Organization Settings > Synigo App > Default App > Menu Items.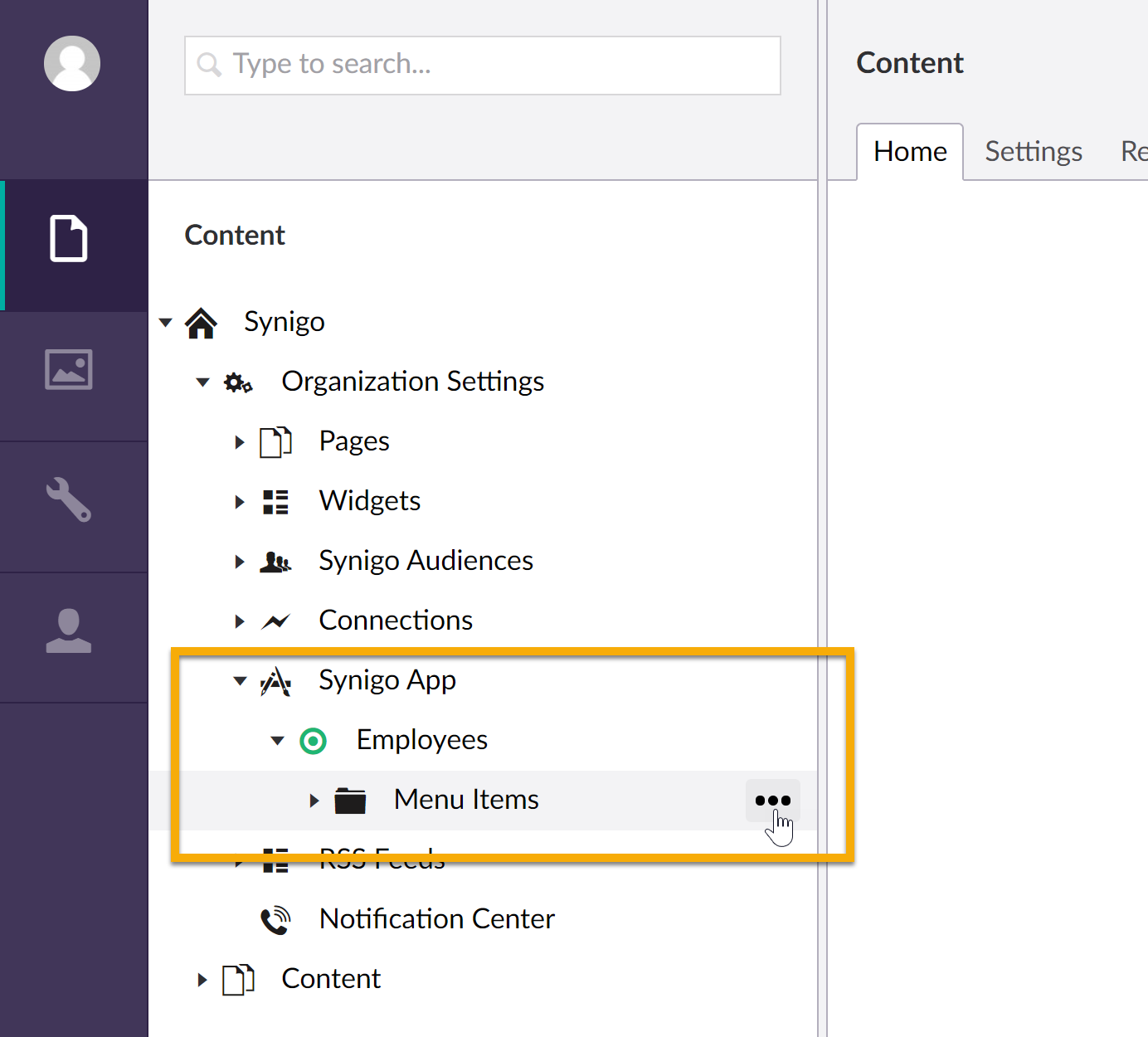 Click on the three dots right from Menu Items and choose the type of menu item you would like to add. You can choose from the following types:

Menu item: use these items for your first content, such as your first news or knowledge base.

News: a 2nd, 3rd etc news collection.

Knowledge base: a 2nd, 3rd etc content collection.

Notices: a 2nd, 3rd etc collection of notices.

Birthdays: makes visible the birthdays.

Favorites: makes visible the personal favorites of the user.

My List: makes visible lists of data from third party systems.

Quicklinks: makes visible a set of quicklinks.

Events: makes visible the events.

Teamsites: makes visible the teamsites you are a member of.

By default several menu items are added to your audience. However, in case you need to add new menu items, e.g. when you create a new audience, please add one or more menu items and select the proper type of content on the second tab. Please note that you use these menu items to add your first news, knowledge or notices.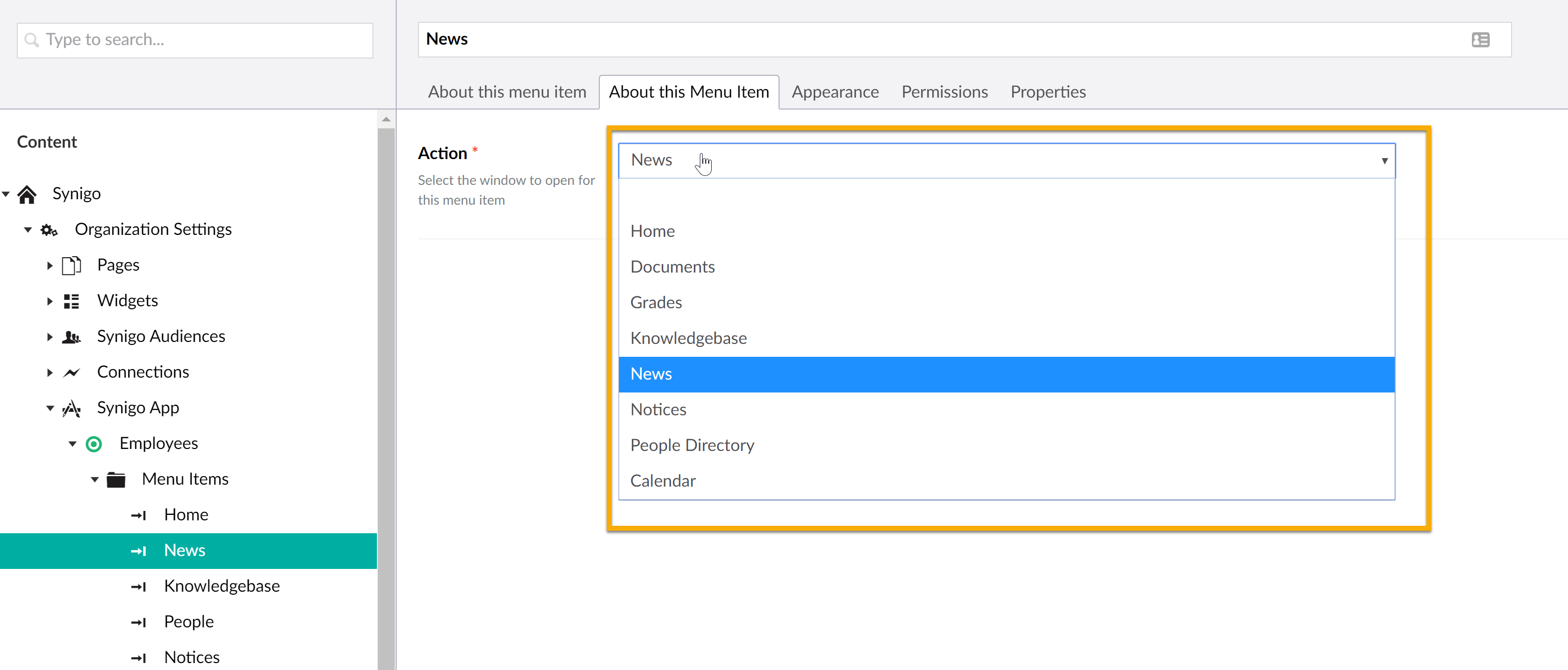 Add menu item
Add Birthdays, favorites, quicklinks, lists, events and teamsites
Click on three dots right from menu items. Choose the type of content you woud like make visible in the app. In regard to birthdays, favorites, quicklinks, lists, events and teamsites you will need to select a proper source. E.g. in case you want to share a set of quicklinks you need to select that set. In this way you can share multiple sets.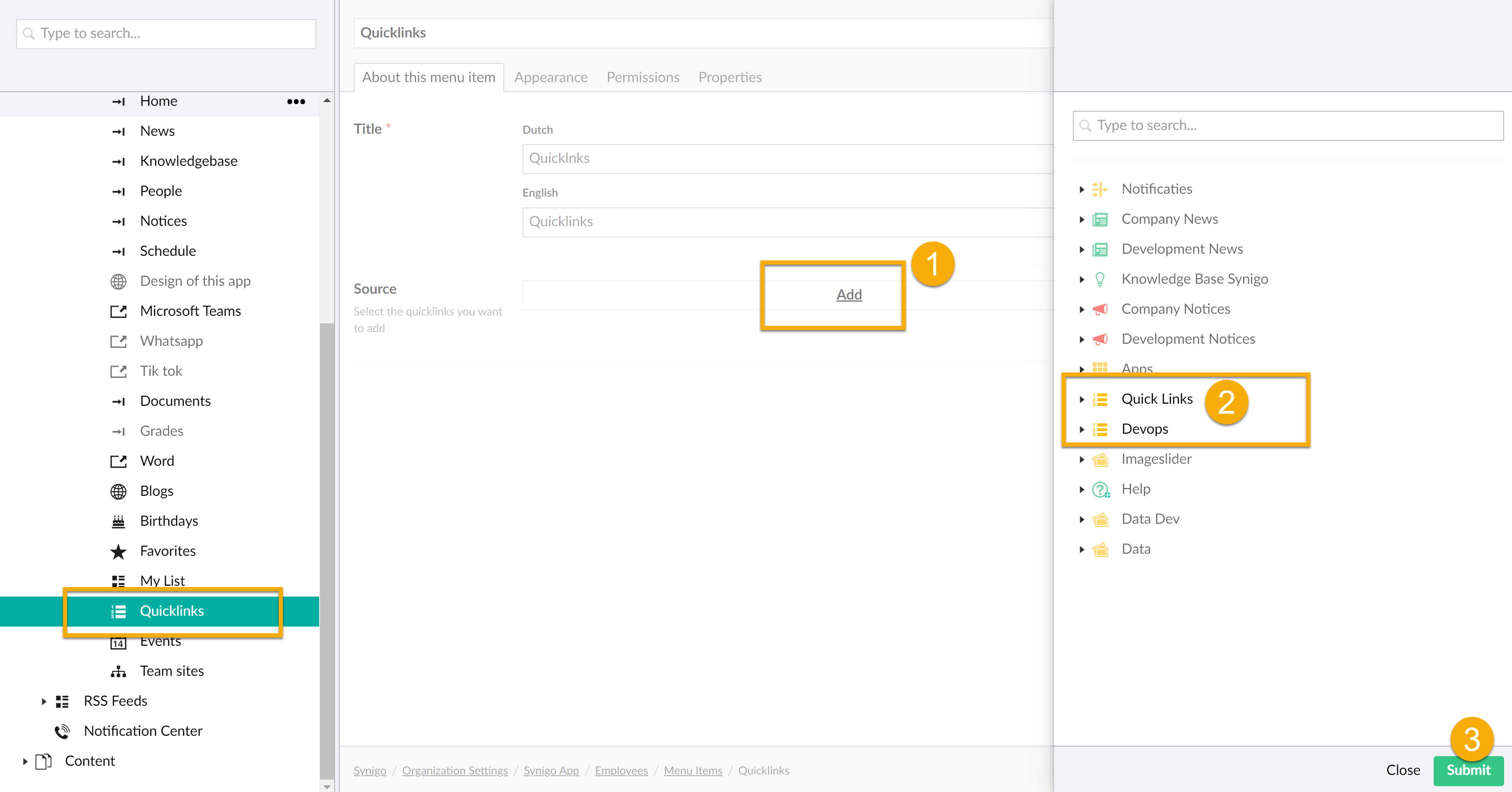 Add a source to your dashboard item
Native applications
Note you need a deep link to a mobile application in order for it to be opened properly.
Deeplink (URI) to mobile applications
. We try to share as much as possible. Please share yours too so you help other customers.
You can sort the menu items on your dashboard by clicking on the three dots right from Menu Items.

Related Articles

Sort items

Purpose of this article Using the CMS you can sort the order of items, such as Knowledge Base sections, apps and quicklinks. This article explains how to sort items. How it's done Open the CMS and click on the three dots right from the node you want ...

App Release 1.2.4 (26 March 2019)

Today we've released version 1.2.4 (version 1.2.3 has been skipped) to the Apple App Store and Google Play store. The validation process takes a bit more time due to Covid-19 so we're not sure when these updates will be available to download. ...

Getting started with the native app

Purpose of this article The portal is also accessible via your smartphone using our native app. You can enable your own native app. Before you can access your native app you need to enable this capability in Synigo Pulse. The native app is available ...

Art work

You can customize the look and feel of your native app. It is nice to play with artwork on your mobile phone. Here are some examples. Icons The default icons of the menu items can be downloaded here. Download artwork These backgrounds can ...

App Release 1.2 Oktober 2019

We're very proud to have our native app released to both the Google Play Store and to Apples App Store. Our first version contains the following features: Sign in and out using your Office 365 sign in experience. A dashboard with completely ...